Fixed Wireless is a unique service and is becoming more prevalent throughout Australia as people discover its benefits.
To get connected with Uniti you'll need to have a small mast and radio installed on your buildings roof space. The mast is generally 2.4 metres high, and the radio itself is the size of a dinner plate.
The radio will be pointed at one of our towers, allowing a fast and consistent wireless link between it and your property.
A few examples of such installations can be seen below.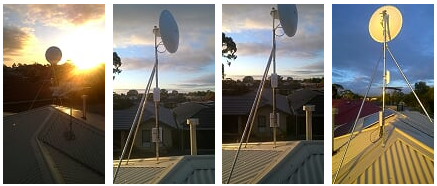 Our technology require a direct line of sight to one of our towers in your local area, which will be confirmed on the day of our initial site survey and installation.
Our technician will position the mast and on your roof making sure you get the strongest signal and best speeds.
Making sure you get the best signal is our top priority but, if you have a specific location on your roof in mind, our technicians are happy to work with you too.