In the world of wireless, there can sometimes be factors that cause intermittent issues with your service.
Our Uniti Software Team have built a tool that will allow you to identify if the issue is between the tower and your property, or inside your home, between your router and your devices.
We call this the "Health Check"
You can find the Health Check function inside your Customer Portal, located in the menu found at the top of the screen, as pictured below.

Once you have logged in to your customer portal, run a health check on your service. This tests the service from the equipment on your roof to the Uniti tower that services your location.
This will provide a result similar to the one below (the maximum speeds will vary based on your own plan)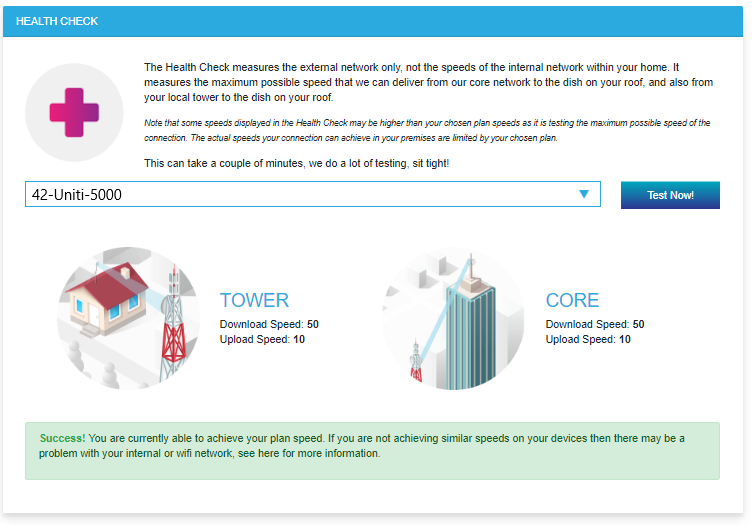 All things going well, you should see a result similar to the one above, if however you receive a failure of this test, or rates that are below the expected speeds for your service, our staff may need to investigate your service further. Please contact us on 1300 847 201 or send us an email at support@unitiwireless.com with the results of your testing.
If everything looks good on the Health Check, it indicates that the issue you are experiencing is likely internal to your property, potentially between the router you are using and your devices.
A good way to test this is to use Speedtest.net
This free online service has the ability to test your service to servers located inside Australia, which are hosted by reputable companies capable of providing the required bandwidth to show accurate results.
Following the steps below will allow the most accurate results from Speedtest.net.
Ensure that no other devices are utilising the Internet connection at the time of testing
Using a wired (ethernet) connection, directly between the router to your device
Select a local server (eg. Adelaide - Internode, for a customer in Adelaide)
Press go!
Speedtest.net will complete a ping, download and upload test, and show you the results in a layout similar to the example below.

If you find that the speed of your service in Speedtest.net doesn't reflect that of the Health Check, you may be experiencing issues with your router or computer.
We suggest completing this same Speedtest via both Ethernet and wireless. If you notice a significant increase in speed on a wired test as opposed to a wireless test, you are potentially experiencing local wireless interference between your devices and router.
If you've purchased a router from Uniti, we may able to provide some suggestions in regards to changes that can be made to the routers wireless settings that could assist in resolving the issue.
If the device was purchased from a retailer, or maintained from a previous carrier, we recommend contacting the router manufacturer for further assistance.
We are happy to assist as best we can, regardless of where the router was purchased. Please feel free to contact us via email or give us a call on 1300 847 201, and we will help as best we can.