In order to configure your HG630/HG630a router for LBN Co VDSL (if it hasn't done it automatically) you'll need to work your way through the following steps.
Start by using a computer that is connected via either ethernet or wifi to your router.
Browse to 192.168.1.1 and use "admin" for the username and "bsr123" as the password.
Select Basic from the left column, and then select Link Interface
Select the ATM tab, and select the remove check box for any present items, then click the remove item (as shown below)
Do this for all items in the ATM, PTM, Ethernet and UMTS (if present) tabs.

Once you've removed all the items, you need to add just the VDSL Interface that is required for the connection, as shown below.
Simply click PTM -> NEW -> Submit

You'll then need to configure the new interface.
Go to Basic -> WAN - > New
Ensure it has options selected as listed below.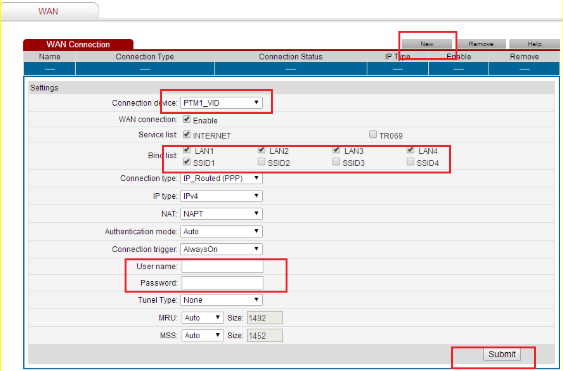 The username and password is the one that was included in your activation email.
Once complete, hit Submit and allow 90 seconds or so for the router to configure itself and connect.
If all goes well you should be up and running!
If not, give us a call, and we will assist.